Blog
7 TIPS TO MOTIVATE CHILDREN TO LEARN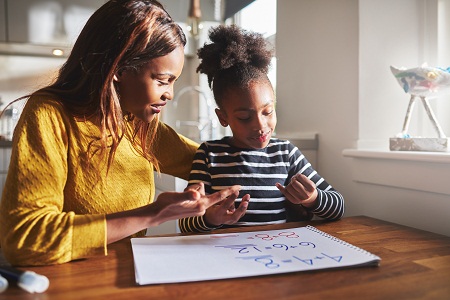 The modern education era is highly competitive and full of distractions. Children are constantly glued to digital gadgets and social media. In this scenario, it becomes extremely important to understand how we can develop their long-term interest towards learning.
Kids require constant motivation to realise their true potential. In a lot of instances, the absence of motivation makes it difficult to retain their attention and thus, children fail to perform their best during difficult and repetitive activities.
If you want to see your children grow as meritorious learners, transform their learning process into an interactive, engaging and real-time experience. Use of 2D and 3D animations, interactive activities and multimedia-based modules can be a few ways to build interactive learning environment. Even though the traditional methods of learning play a crucial role in nurturing intellectual and social habits, you need to help your children open up to the new world of creativity and innovation.
Here are the top 7 tips that will motivate your kids to become star learners:
1. KEEP REVIEWING THE LEARNING METHODS: Young minds are highly motivated when it comes to learning new subjects that match their skill sets. We can bank on this opportunity to enhance their intellect and creativity. You need to constantly bring variations to the tasks to make the kids perform at the edge of their capabilities. You can create a task sheet for every subject and analyse their pace of learning. As the children improve, you need to tune-up the levels of difficulty.
2. ASK QUESTIONS AND LET YOUR CHILDREN THINK: Learning a definition might help your children score high marks, but questioning makes learning more conceptualised and inquisitive for them. Let them solve a puzzle and they will find it fascinating. You can always ask questions after you are done explaining a chapter. This will help you know the children's level of understanding. Allow them to explore more and not just be restricted to fait accompli.
3. GET THEM TO COMPETE WITH THEIR PERSONAL BEST: Learners often find it difficult to learn something that does not seem to be interesting and engaging. Learning exercises like memorising names of places or multiplication tables are not invigorating in themselves. However, you can chalk out a plan that will help your kids master a subject that they find a tough nut to crack. Give them tasks on the basis of their previous performance and set a time limit to analyse their skills and interest. Help them fix a routine and measure their accuracy each day.
4. RELATE ABSTRACT CONCEPT WITH REAL-LIFE SITUATIONS: Applying abstract definitions and concepts to real-life circumstances enables learners to be more analytical. When children adopt the method of studying every situation that involves real stakes and people, learning becomes much more effective. You can explain them scenarios of a subject by connecting the content with some real-life incidents.
5. CREATE A LEARNING GROUP: Build a learning group, or help your children connect with other learning partners. This will help them share knowledge and have an in-depth understanding of different subjects. You can also be a learning partner and help your kids enjoy each moment of their innovation. Encourage them to share ideas, drive their spirit to study hard in a healthy competitive manner.
6. INSPIRE THEM TO BE CURIOUS: Children will enjoy learning only when you make them believe they can be experts. Assign them a part of a subject and ask them to research on it. You will surely notice the amount of enthusiasm that they display. Take advantage of their newly learned expertise and incorporate it into their daily learning exercise!
7. REWARD THEM FOR THEIR HARD WORK: Children love to be rewarded. So, capitalise and make sure you keep enhancing their motivation level with little tokens of appreciation, not only on the completion of their learning session, but also during it. Always set goals that are achievable yet require some effort. This makes kids yearn for doing better.
When compared to adults, children are a lot more eager to learn and experience new things. Digital learning solutions provide a perfect platform as they enable learners to grasp concepts quickly and fully, and retain them through interactive methods. A pioneer in digital learning solutions- Extramarks offers engaging learning methods that make learning easy and effective and motivate learners to give their best shot. To know more about Extramarks learning solutions, visit: http://www.extramarks.co.za/